Our passion is to create authentic experiences through intentional design. We design our recipes to amplify terroir and demonstrate the wonders of natural fermentation. We design our visual art to highlight the disruptive spontaneity of our products. Every sip of every pour spotlights the authentic results of sustainable fruit, native fermentation, and exceptional technique. Our hands touch every aspect of our complete product and our minds shape the intention that goes into and onto every single bottle. Our passion is to create.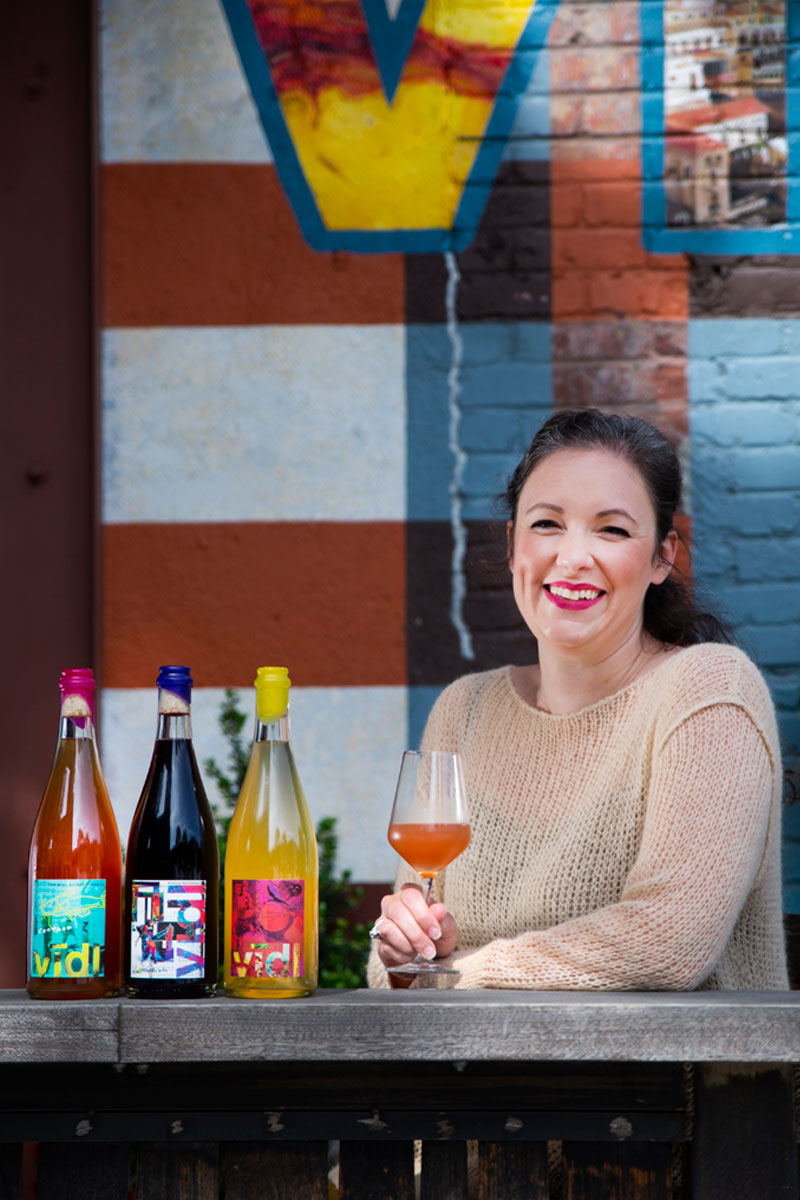 JEN CURRIER is our Head Winemaker and cellar master. She is an expert in native fermentation techniques and has worked with native yeasts, wild fruit, and barrels for many years. Jen brings experience and exuberance to everything that she does; the recipes that she designs, her intentional approach to sourcing fruit, her artistry of blending, and of course her complicated relationship with native yeasts and bacteria. Jen is an inspiration and a leader in her field.
We produce minimal intervention and naturally fermented wine, beer and cider. We start with our commitment to sustainably sourced fruit, native fermentation, and no added sulfites, sugar, yeasts, or fining agents. We bring mindful intention to every aspect of our products which results in a unique and exceptional experience.
In 2014, we began producing our Basque-influenced naturally fermented cider. Apple orchards checker the mountainsides of Western North Carolina, and we are proud to give this staple of local agriculture new life as cider. Our cider is fermented in our 2,000 gallon oak foeders with Brettanomyces harvested from local apples to lend a rustic, earthy, and dry character. This refreshing cider then conditions to develop complexity and depth.
In 2015, we produced our first native spontaneously fermented beer outside of Wicked Weed Brewing's Funkatorium. We continued on this journey by building a traditional coolship room and producing native spontaneously fermented beer each year since 2015 that has resulted in a wide range of blends and including an array of fruits and botanicals.
In 2019, we participate in our first grape harvest. As passionate fermenters, we've always been drawn to wine, as the two beverages often are shared atop the tables of our homes amongst family and friends. Our sour beer is inspired by everything from the flavor profiles of our favorite reds, to the approaches the best vintners use to treat their grapes. So, it was only a matter of time before we delved into intentional winemaking ourselves.
Our grapes come from the same hallowed ground as many of our hops: Yakima Valley, Washington. Through many different treatments, vessels, and fermentations, we've created a diverse portfolio of wines that reflect our passion as both drinkers and makers.
These truths we hold self-evident: fruit is life, fermentation is alchemy, and wine is vīdl.